RGB wall washer features:
A) Environment protection:wall washer light adopting cold light source, no radiation and heavy metal pollution. Different with traditional halogen that may result in losing luster due to long
B) Long lifetime, high brightness and low light attenuation. Lifetime is 10 times of ordinary incandescent light. High efficient optical lens with small light loss.
C) Aluminum lamp body: 36w led wall washer with cast aluminum and cover, surface is oxidized by anode. Aluminum lamp body: cast aluminum end cover, surface is oxidized by anode.
D) Apply for impact-resistant, high-intensity roughened glass surface.
E) Multi-functional adjustable fixation bracket precisely and effectively adjusts for illuminant angle of light fixture.
F) Working environmental temperature: -40 – 70°C.
G) Energy-saving: the power only 1/10 of the ordinary lighting.





Outdoor led wall washer specification:

Model

RL-XQ70WL-36W

Input Voltage

AC85-265V 50/60Hz

Dimension

L1000*W70*H61mm

Lighting Source

36*1W Bridgelux Chip

Power Consumption

36W

Color Temperature

WW(2800~3300K)

NW(4000~4500K)

PW(6000~6500K)

Luminosity

≥3280lm

≥3340lm

≥3580lm

Power factor

0.9

CRI(Ra)

>75

Beam Angle

45°/60°/120°

Work Temperature

-25℃~+45℃

Material

Alu+Glass

GW

3.3kg

NW

3.0kg

Lifespan (LED)

≥50,000hrs (70% Lumen Maintenance)

IP Rating

IP65

Lumen Attenuation

<5% @ 5,000hrs

Packing Dimension

L1100*W100*H100mm
Bridgelux high power leds for wall washer lumen attenuation: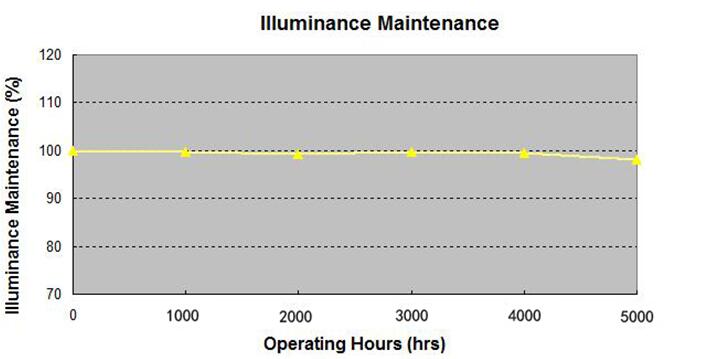 wall wash outdoor rgb led photos: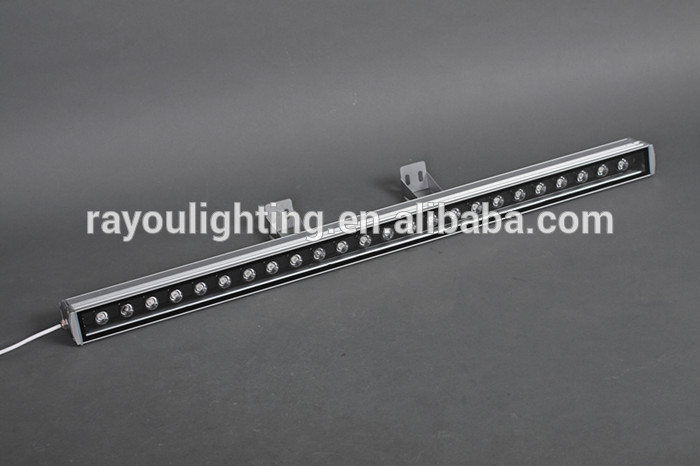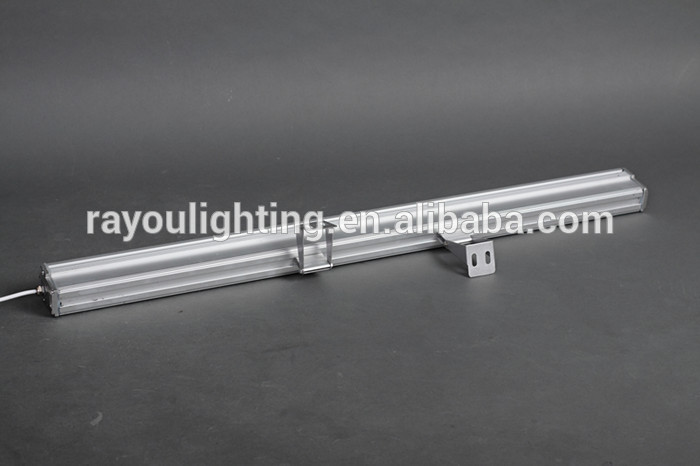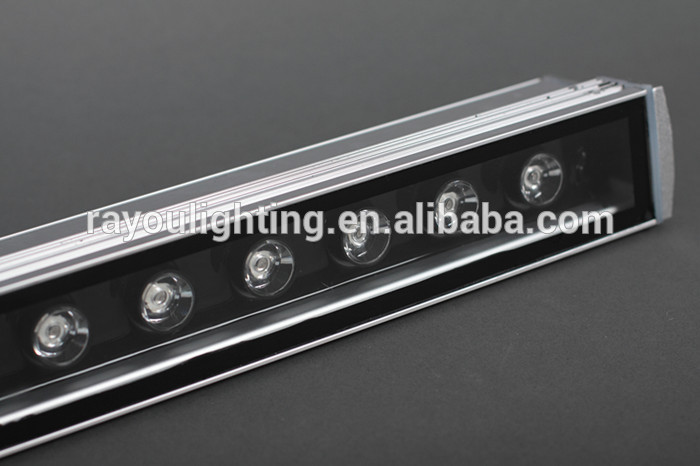 More related wall washer light to choose: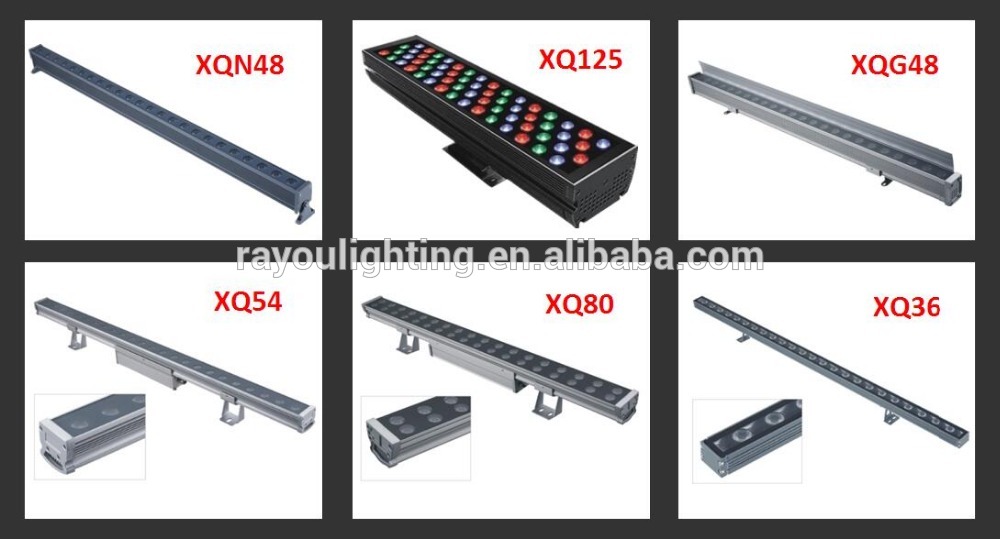 IP65 dmx512 led rgb wall washer 36w installation notice:
1. Cut off the current firstly. 2. Do not remove any Part 3. Must be under the required voltage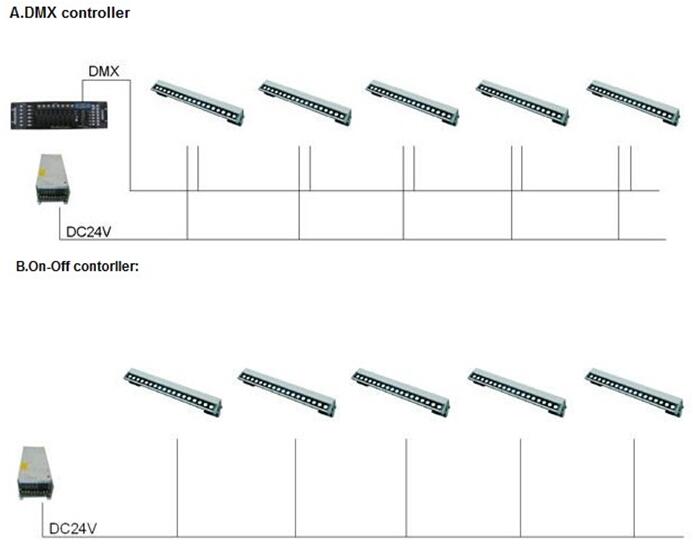 outdoor led lights wall washer installation instruction:

1) Place the wall washer at planned location and direct it to architecture surface.
2) Adjust the rotary angle to requested angle.
3) Connect wall washers to each other; Signal Amplifiers are needed to connect between every 100 meters or 328 feet.
4) Complete waterproof treatment at every joint of signal connectors. (Please refer to picture below).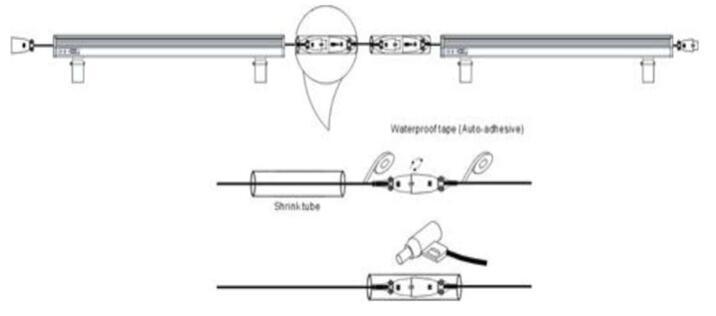 5) Connect the DMX Console to the first wall washer.
6) Plug the first wall washer and console into power outlet to light up the whole system.
DMX rgb led wall washer installtation attentions:

When creating your installation plan, consider the following:
1) Location of the wall washer - The wall washer is suitable for only dry, wet and damp environment.
2) Control System - The wall washer can be controlled by standard RGB DMX Controller. Synchronous color changing might be considered before installing.
3) Lighting Distance - The maximum lighting distance for the wall washer is around 15 - 20m (49.2 - 65.6 feet).
4) Maximum series-wound quantity - 100 meter (328 feet). A signal amplifier is needed between every 100 meter (328 feet) distance.
800mm led wall washer 18w lighting effect: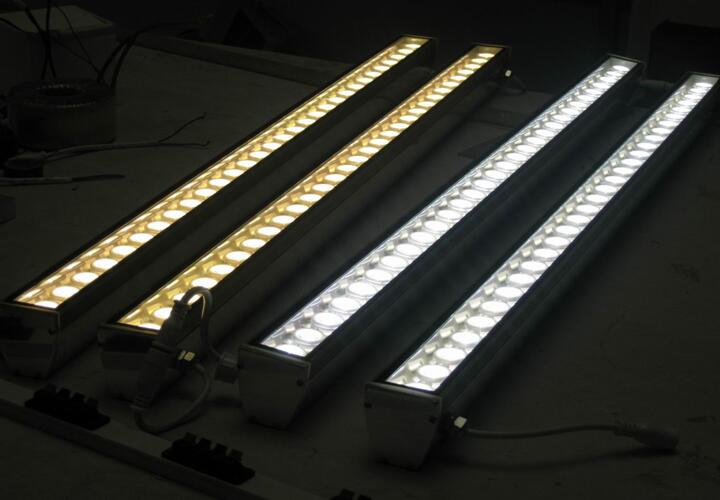 wall wash light packing:



RGBW led wall washer application:
wall washer led is a kind of architectural decorative lighting, widely used for outdoor theater lighting, hotel outdoor lighting, commercial lighting, disco lighting, stage, club, bar, and garden decoration.