Features:
- Strong point: excellent optical design with double reflector, Light more focus ,Better light effect, Better light efficiency
- No glare,No dark zone
- Energy saving: Electricity consumption is only 20% of Halogen lamp
- Long life: 30,000-40,000 hours,20 times of halogen lamp
- Brand New optical design, light performance as well as Halogen lamp(Multiple small reflectors design, softer light)
- Compact and ethereal design, better cost-effective. (The same covering, better performance) Save you delivery cost at the same time.
- Open structure for heat dissipation structure, Better dissipation performance
- Double reflectors design, light more focus (Higher lux,Let the show objects more stand out)
- Power supply design: soft start type. The lamp is well protected.
- LED cold light source, heat is only 1/4 of halogen lamp.
- No UV or IR
- light up immediately, no need to wait for warm up.
- Build-in accurate Constant current isolation ballast, more save and no flicking



Characteristics(Ta=25℃):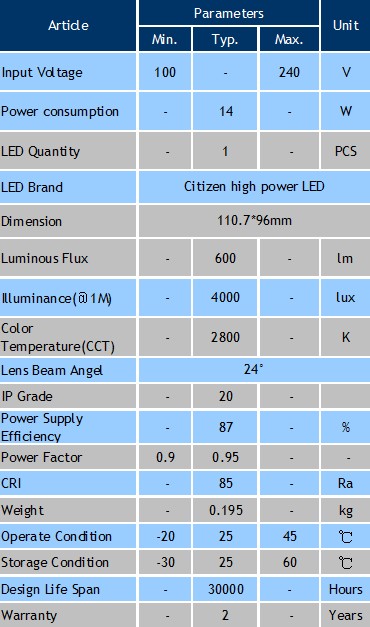 Dimension Drawing: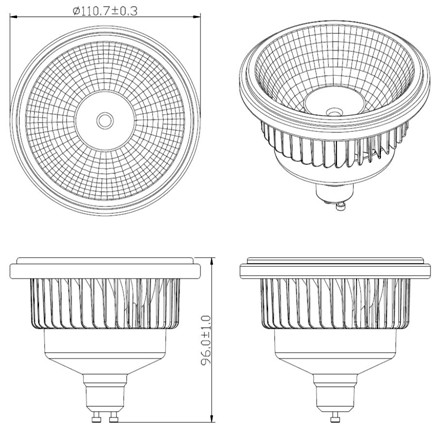 Package: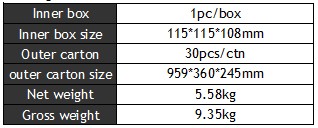 Application:
Widely used in the hotel, meeting room, offices, hospital, schools, factories, commercial lighting, shopping malls, supermarkets, kitchen, display, backlight, home indoor lighting and so on.